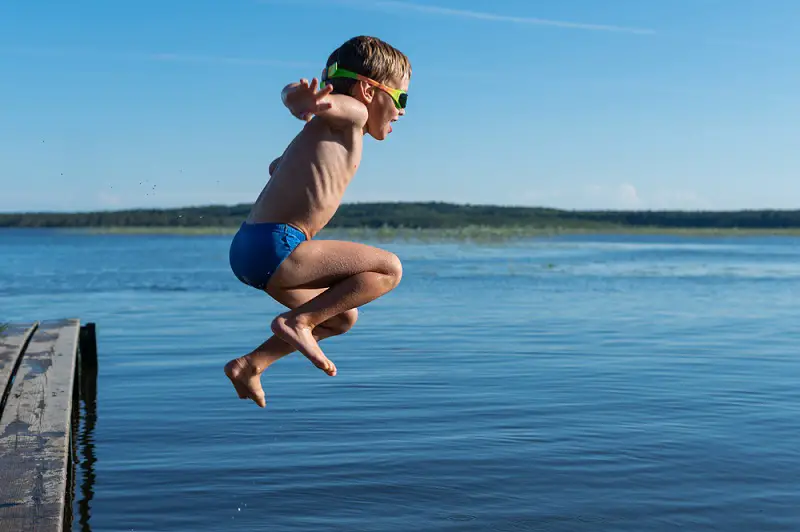 Is It Safe To Swim In Lake Waco?
There's no denying that it can get really hot in central Texas. And if you're like me, when you start experiencing those 100 degree plus days, sprinkled with a bit of CenTex humidity, then you're looking for the nearest body of water to plunge into.
Unfortunately, not all of us are lucky enough to have a swimming pool in our back yard or belong to an HOA that offers a community pool as part of the neighborhood.
So for the rest of us, what are our options? You could always ask your neighbor to jump into their pool to cool down on those hot days. But that's not really a good long term solution.
Fortunately, there's a very large lake located just West of Waco. You've probably seen it. I'm talking about Lake Waco.
It's hard to see such a massive body of water so close to town and not wonder to yourself if it's safe to swim in?
Is It Safe To Swim In Lake Waco?
It is safe to swim in Lake Waco. As a matter of fact, Lake Waco offers two parks with swimming beaches, Airport Beach and Twin Bridges.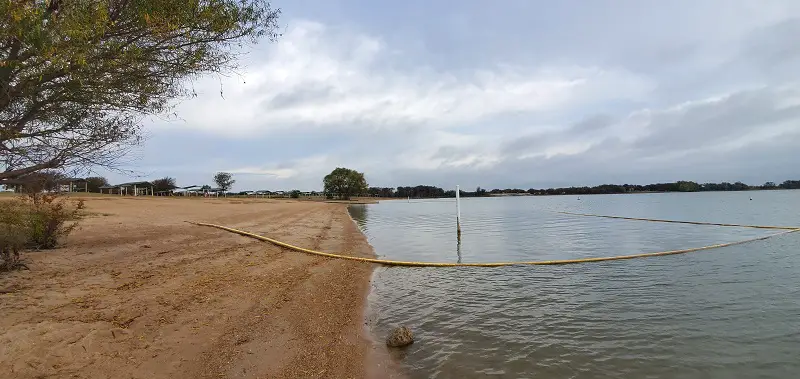 But just because there are designated swimming beaches at Lake Waco doesn't mean that it is always a good time to go swimming.
There are times during the year when the area experiences incredible amounts of rainfall, which in turns raises the level of the lake.
In the most drastic of situations, the parks around the lake are closed. For example, in 2021 KXXV.com reported that four parks around Lake Waco were closed and 5 partially closed due to high water.
The concern in high water situations is that structures appear hidden and debris is harder to see, making it dangerous for folks to use.
So, is it safe to swim in Lake Waco? Yes, it is. Lake Waco is a major destination spot for all different types of water sports, including swimming and water skiing.
Related: How Deep Is Lake Waco?
About Lake Waco
Lake Waco is a man made lake that was formed as a result of a dam that was built in 1929 to help control flooding along the Bosque River. The purpose of the reservoir was also to provide a reliable water source for the city of Waco.
In 1961, a modern earthen dam replaced the original dam structure which significantly increased the lake's surface area from 2700 acres to approximately 8,400 acres.
Who Maintains Lake Waco?
Waco Lake is currently maintained by the United States Army Engineering Corps and the Brazos River Authority.
Even though the lake's primary function is to provide a reliable water supply for Waco, it also serves as a destination for all kinds of recreational activity, from boating, fishing, camping, hiking and much more.
Parks At Lake Waco
The construction of the new dam sparked debate in the Waco community about the development of community centers around Lake Waco. Many residents saw the lake as a source of civic pride and wished to expand the services the park could provide to the community. Along the dam, the US Army Engineering Corps encouraged the development of features such as wildlife habitats and parks.
Airport Park, Midway Park, Reynolds Creek Park, and Speegleville Park are the corps' four parks that surround Lake Waco. These parks have camping and picnic areas, as well as several boat ramps and two marinas. They also provide areas for water sports, hunting and fishing, boating, and hiking.
Reynolds Creek Park's Lacy Point Nature Trail is part of the National Trails System. Throughout the summer, educational programs on topics such as wildlife, lake history, and water safety are available to the general public.
Read More: How Long Is The Lake Waco Dam Trail?