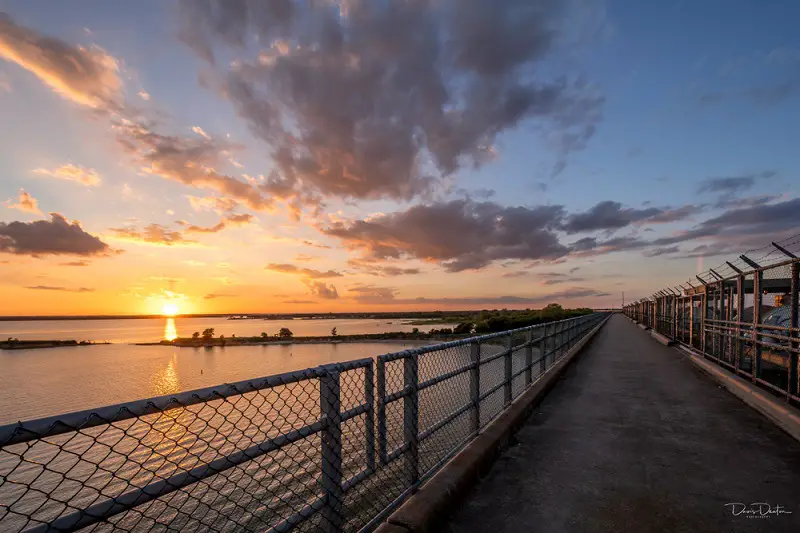 Today I took a drive around Lake Waco. I started in Woodway near Twin Bridges Park. I took this drive because I wanted to take a look at the boat ramps that are open to the public on Lake Waco, and hopefully find a few places to do a little bank fishing with the kids.
As soon as I was done visiting the Airport Park boat ramp and campground area, I made my way back towards town on Skeet Eason Rd, but not before driving right past the Skeet Eason access to the Lake Waco Dam Trail, which is also know as the Waco Hike and Bike Trail.
If you've spent much time at all in the Waco area and enjoy hiking and biking, then you've most likely heard about the Waco Dam Trail.
Related: Is It Safe To Swim In Lake Waco?
How Long Is The Waco Dam Trail (Hike and Bike Trail)?
The Lake Waco Dam Trail expands the entire length of the dam and is 5.6 miles long if hiked out and back, or 2.8 miles long if only hiking in one direction.
The Waco Dam trail is an easy hike and is an excellent trail for people of all different skill levels. So if you're new to hiking, or just looking to get off the couch, the Waco Hike and Bike Trail is a great place to start.
More About The Waco Dam Trail
Located near Waco, Texas and not far from downtown is the Waco Hike and Bike Trail which offers outstanding scenic views of the surrounding natural beauty of Central Texas including sunsets and the Bosque River which joins the Brazos River just past the dam. This trail is suitable for all skill levels and is open all year. The trail is primarily used for walking, running, and road biking.
Where To Access Waco Dam Trail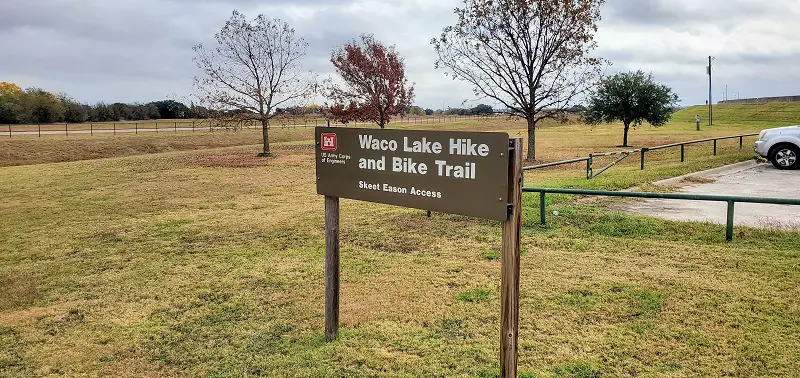 The Waco dam trail includes three entrances:
Lake Shore trail head
Waco Lake Hike and Bike Trail off Airport Road
Skeet Eason trail head off Skeet Eason Road.
(See below for maps and directions to each of these access points)
All three entrances to the trail include water fountains, trail information and areas to rest and take a break.
Lake Waco Dam Hours
The trail opens one hour before sunrise and closes one hour before sunset.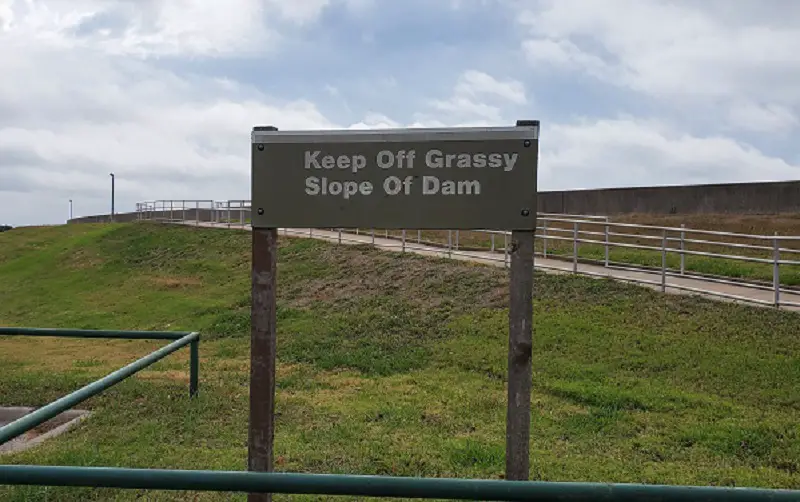 How To Get To Lake Waco Dam Trail
Here are maps to the three different access point to the Lake Waco Dam Trail.
Skeet Eason Trail Head
Lake Shore Trail Head
Waco Lake Hike and Bike Trail